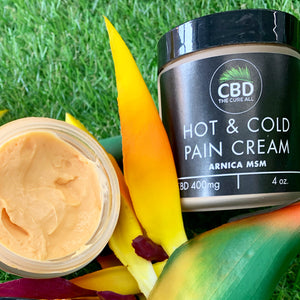 HOT
&
COLD
PAIN CREAM 
CBD 400MG  
4 oz. 
ARNICA MSM 
Medical benefits of CBD The Cure Hot & Cold Pain Cream is very effective for arthritic joint pain/inflammation, as well as localized muscle pain/soreness. 
DIRECTIONS FOR USAGE 
Warning: Avoid applying on cuts & open wounds. Wash hands after uses.  Apply approximately a quarter size of cream onto areas with pain once or twice daily.  Cooling and warming sensation may occur upon application.  Be sure to wash hands after each application.  Avoid face and SENSITIVE AREAS. 
INGREDIENTS 
Organic Aloe Juice, Organic Lavender Hydrosol, Organic Chamomile Hydrosol, Organic Arnica Hydrosol, Orange Blossom (Neroli) Hydrosol, Organic Shea Butter, Methylsulfonymethane MSM, Organic Arnica Oil, Organic Vegetable Glycerin, Vegetable Emulsifying Wax, Organic Sweet Almond Oil, Palm Stearic Acid, Vitamin E (Non GMO), Leucidal Extract, Citric Acid and Essential Oils: Peppermint and Capsicum Oleoresin